Workshop "Materializations of a troubling object - Doing race in medical and bureaucratic practices in Brazil" with Tatiane Muniz (Federal University of Rio Grande do Sul) and Sarah Lempp (University of Bayreuth)
02.07.2019, 16-18 Uhr
RW II - S 45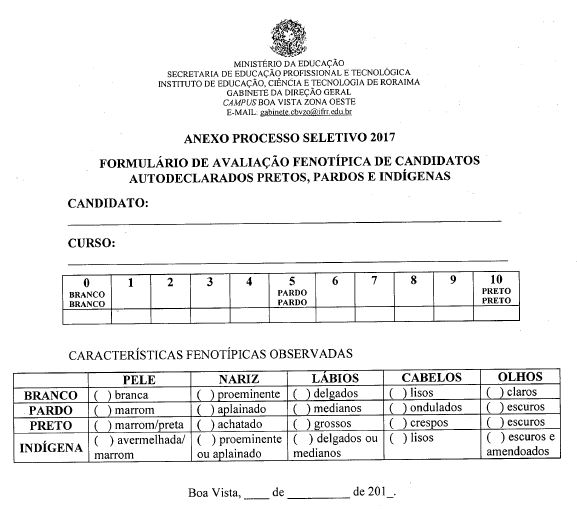 Affirmative action for Black candidates and health programs addressing persons of African descent face similar paradoxes: On the one hand, they aim at reducing the social and economic impact of race as a category of difference. On the other hand, they need criteria on which to operate – and as a result reify and perpetuate the very category they seek to eliminate. With its postcolonial narrative of a foundational mestiçagem (miscegenation) – according to which the country's population developed out of a harmonious 'mixing' of Europeans, Africans and Indigenous people –, Brazil is a particularly rich field to study policies based on this category. The workshop will therefore address the question of how race materializes in two specific areas in Brazil: medical practices addressing persons of 'African' descent and commissions that have to decide whether those who applied for affirmative action vacancies for black candidates 'correctly' declared themselves as such.
Drawing on anthropological approaches inspired by Science and Technology Studies, the workshop will discuss how actors in these two fields try to 'capture' race as category of difference and will put up for discussion the difficulties of researching this question without contributing oneself to the reification of race.
Tatiane Muniz is PhD candidate at the Postgraduate Program in Social Anthropology of the Federal University of Rio Grande do Sul, Brazil. In her dissertation project, she investigates institutional narratives about race, seeking to analyze how the category of race materializes into technical and bureaucratic practices linked to health, such as genetic research, biomedical practices, and racially targeted health public policies.
Sarah Lempp is research associate and PhD candidate at the Institute of Anthropology of the University of Bayreuth. In her dissertation project, she investigates racial assessment practices in Brazil's affirmative action policies and analyzes how the category of race is translated into bureaucratic and legal indicators.